You are here
Overview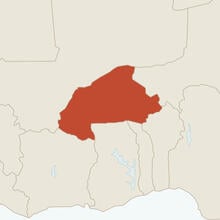 Burkina Faso's 2015 presidential and legislative elections were the country's first competitive polls in nearly three decades. Coming on the heels of this change, the country is undergoing a constitutional reform process, which provides opportunities for the new constitution to be responsive to citizens' priorities, and also for citizens to learn of their rights and responsibilities under the law. This reform takes place against a backdrop of violent extremist activity and an awareness of the need for greater citizen involvement in the security sector.
Active in Burkina Faso since 2004, NDI currently works with civil society, political parties and the legislature to promote civic engagement in governance and political processes through the development of civic knowledge, skills and attitudes through civic education. The Institute also provides training to support the prevention and peaceful resolution of conflict by strengthening local capacity for facilitating dialogue and mitigating societal tensions, based on existing conflict prevention and resolution mechanisms.
To support women and youth wings to influence political party policy on key issue areas, NDI assists party youth and women to implement an inclusive policy development process. NDI supports the women and youth to connect with national and international civil society groups, academics and parliamentarians who hold expertise or share an interest in the particular policy issue the wings have selected for their policy focus. NDI has also carried out a capacity-building curriculum for parties' women and youth wings, which comprises a series of training modules followed by hands-on guidance in communication, messaging, fundraising and financial management. To change mindsets in favor of greater women and youth leadership, NDI is working with prominent male and female figures in Burkinabe society who can speak to positive experiences with women and youth leaders, thereby serving as champions of change.
Click here for more information on NDI's programs in Burkina Faso.
Get Involved
NDI's work upholds the idea that democracy is a human right – a principle enshrined in the Universal Declaration of Human Rights. But it's a human right that many around the world still struggle to attain. You can be part of the solution. Join the movement for democracy.